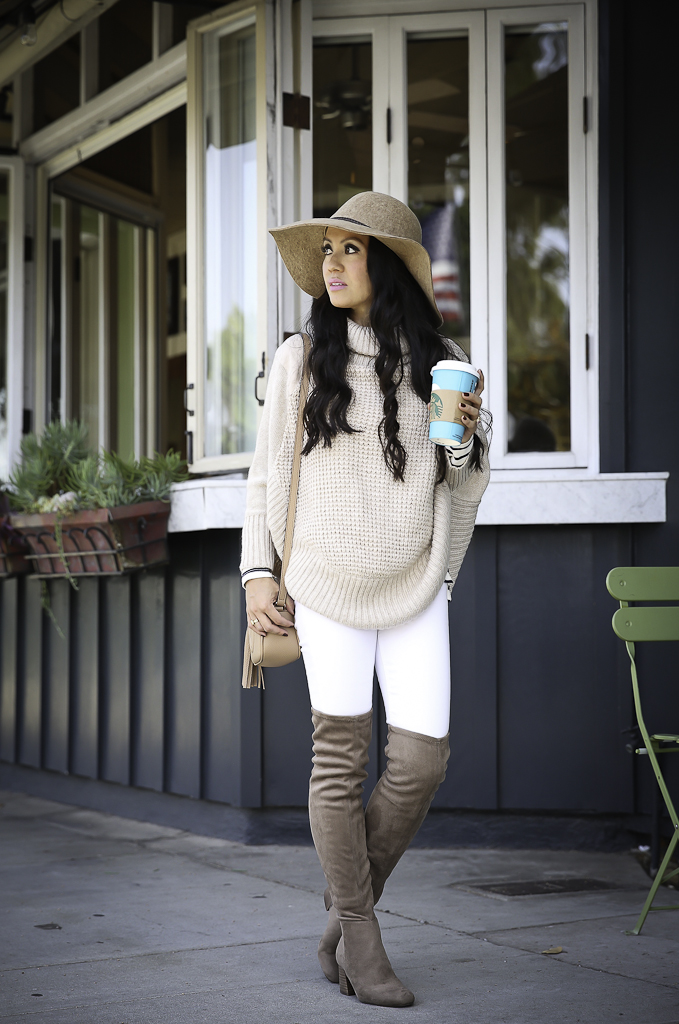 It's official.  I'm obsessed with Vince Camuto.  This is the second pair of over the knee boots within the last month (see previous post HERE) and it's confirmed – my favorite brand for booties and boots.  As you know I've been raving about the Franell ankle booties for years (so glad they brought them back) and now I'm loving their OTK boots!  It's such a struggle finding petite friendly boots especially over the knee boots that don't fall down.
I've been wanting a pair of boots in this exact color for so long and now I can finally check it off the list.  This taupe color is perfection and will go with everything!  I also needed a pair that I could wear all day while chasing a toddler around and not have to worry about my feet aching. #momlife
The stacked 2.5″ heel is just the right height – low enough to be comfortable and tall enough to give me a little boost.
If you have short legs, you know what I'm talking about when I say the #struggleisreal when it comes to shopping for over the knee boots.  They're usually too tall or too wide.  These boots have a shaft height of 22.75″ and similar to my black flat OTK boots (see HERE).
The best part about these boots?  They have a small circumference!  Yay!  It measures 13.5″ which is SO RARE to see these days.  Most boots have a 15″ and sometimes you see 14″ but rarely do you ever see 13.5″.  I was cautiously excited and as soon as I put them on, I may have done a happy dance. 🙂
The material is microsuede (faux suede) but looks and feels like real suede.  I don't mind microsuede at all – easier to maintain and you don't have to worry about ruining the material.
You're probably wondering…do these actually stay in place throughout the day?  It's one of my biggest pet peeves when it comes to over the knee boots – constantly pulling them up (so frustrating).  These actually stay put.  Hooray!  There aren't any laces to fuss with and snug enough that you don't have to constantly adjust them.  In full disclosure I only wore these over jeans so I'm not 100% how they stay up on bare legs.  I'll try doing that next time I wear them and report back.
Most over the knee boots are very difficult to put on and take off.  I'm happy to report that you don't have to wiggle in and out or do a funky chicken dance while trying to take them off (lol).  The side zip closure makes it super easy!
I've been asked so many times, can petite women wear over the knee boots?  Heck yes!  Just because we don't have mile long legs doesn't mean we can't wear tall boots.  As long as you find the right fit, OTK boots can elongate your legs and even make you look tall.  Say what?  Yes.  Get a pair.  Do it.  I love wearing them but the trick is finding a pair that fits your calves and thighs properly.
In case you need some other options, I rounded up some of my favorite boots and booties:

Boots: c/o Vince Camuto Kantha over the knee boots | Jeans: Topshop petite white ankle jeans (similar HERE) | Sweater: c/o Faux suede trim poncho sweater | Shirt: Ann Taylor striped shirt (similar HERE) | Hat: Wool floppy hat | Purse: Gucci soho disco bag

Thank you Vince Camuto for sponsoring this post.