We got married!
Milan's Dress (size 6) + ballerina flower shoes | Meadow's dress (size 18 months) + flower shoes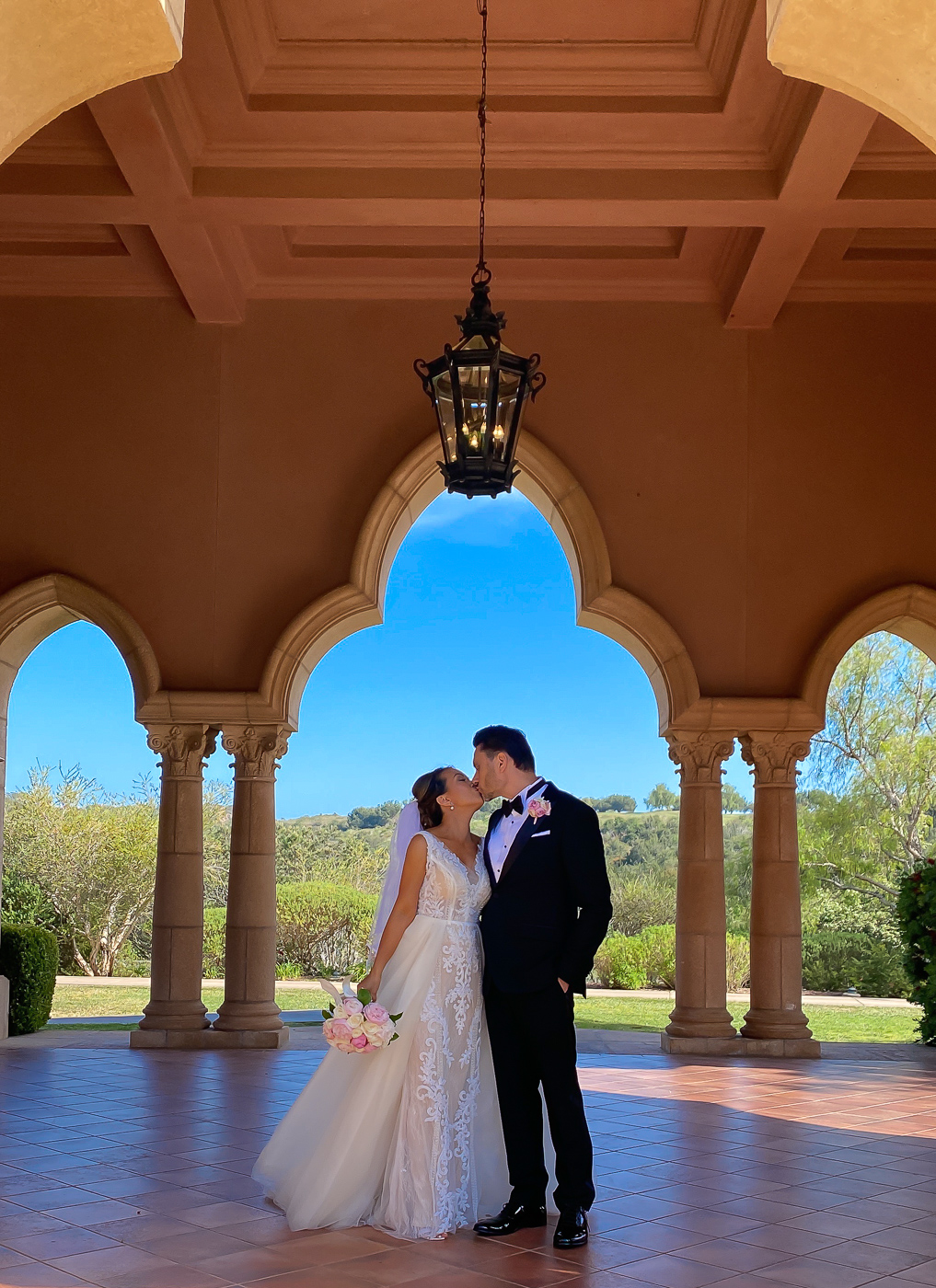 Bride:
Wedding Dress: Lulus | Shoes: Lulus bow satin heels | Peony & Rose Bridal Bouquet (Gelson's florist) | Veil: Amazon | Hair pins + Hair Clip | Earrings: Chanel pearl earrings (wedding gift from hubby)
Groom:
Tux: John Varvatos | Tuxedo shirt + bow tie + cufflinks: Amazon | Leather oxfords: Saks off 5th | Silk pocket square: Amazon | Faux peony boutonniere: Amazon
Wedding extras:
His & Hers Vow books | Ring pillow
I married the love of my life.  My best friend.  The man who healed my heart and showed me how to live again.  It's surreal (still).  I honestly can't believe it.  Husband and wife.  I am beyond happy.  It's so crazy how much we have been through together in such a short amount of time yet here we are, stronger and more in love today than ever.
Since getting engaged last May, we both agreed that eloping was the way to go.  It's not that we didn't want our friends and family to share our special day, we didn't want all the stress and drama that comes with weddings.  It's all too much and trying to make everyone happy takes away from the importance of the day.  Plus, both of our families are from out of state which makes it complicated to coordinate.  We wanted to keep it simple and focus on what really matters. Us and our kids.
We originally planned on a simple courthouse wedding just to make it official but I decided against it at the last minute and planned this sunset elopement wedding in about thirty days.  Not too bad huh?  Even though we eloped, there were so many details that goes into it.  It's a ton of work especially with kids.  I think I did pretty well considering how little time I had. 🙂  It certainly makes it easier when I know exactly what I want.
Windansea Beach is one of my favorite beaches in San Diego and holds a special place in my heart.  We took our gender reveal baby photos here when I was pregnant with Meadow and I knew that it would be a perfect spot for us to get married.  I obtained a permit from the city of La Jolla for the ceremony even though everyone says as long as it's under 20 people, you don't need one.  We could have absolutely gotten away with not having one and saved a couple hundred bucks but I wasn't going to chance anything on our special day.
I knew I wanted our wedding to be elegant and classy but didn't want to spend a ton of money.  Haha 🙂  I proved to myself that you can have an amazing and beautiful wedding on a budget!  Now we can put the money we saved towards a family vacation in the future.
My wedding dress was only $170 (ordered only 2, HERE is the other one I tried).  Mr. Right's John Varvatos tux was on sale for $250 (purchased a year ago) and fit like a glove – all we had to do was hem his pants.  My bow heels were $40 and my veil was only $16.  Milan and Meadow's dresses were both under $40 and their faux peony bouquets were $10 from Marshall's.  I wrapped the stems in lace from Michael's and they turned out beautifully!  The only things I splurged on was my hair/makeup and bridal bouquet.  I typically don't wear much makeup and wanted to be glammed up for my special day.  I was going to wear my hair down with my veil but decided the day of to do an updo because I knew the humidity by the ocean would flatten my hair and make it look like a hot mess.  Plus the wind is not my friend!
I designed my bridal bouquet and ordered it from Gelson's Supermarket instead of paying a premium at a florist company.  I was able to get my pink peonies and rose bouquet for under $100.  It turned out beautifully and beyond my expectations.  We had a friend of Mr. Right's officiate our wedding so we also saved money there too.  I had no idea how expensive officiates were!  They range from $300-$500 for basically 15-20 minutes of work.  Crazy!
Since we weren't going to have a reception or guests, we decided to have an intimate dinner at the Fairmont Grand Del Mar Resort.  The hotel is spectacular and the grounds are stunning.  Since we had dinner reservations that evening, they were kind enough to allow us to take photos in their beautiful courtyard before the ceremony.
The only thing I regret is NOT taking family photos before the ceremony while we were at the hotel and before the kids got tired.  The wedding ceremony was during sunset on a cliff overlooking the ocean so it was a little windy and chilly for the kids.  It was past Miss Meadow's bedtime (she goes to bed at 5:30) so she was super tired.  Poor baby.  Milan was the best flower girl and ring bearer.  Both of my babies looked so precious and like little princesses.  I'm so bummed only got a couple family photos and I didn't get any photos with the girls holding their bouquets. 🙁 Good thing I didn't spend money on real flowers for them!  I may put them in their dresses holding their faux peony bouquets and take photos another day.
It's crazy how fast your wedding day goes by.  You blink and it's over!  I'm glad I was able to be present and soak up the day.  We did the traditional vows and also wrote our own.  I couldn't even get through my vows, I was bawling.  It was such a special moment hearing him read me his.
All in all, the day went exceptionally well and we kept to the timeline.  I couldn't have asked for a more perfect and stress free day.  I made a 60 second video HERE of our wedding day if you want to check it out.  I am over the moon and finally got my happy ending.  XOXO