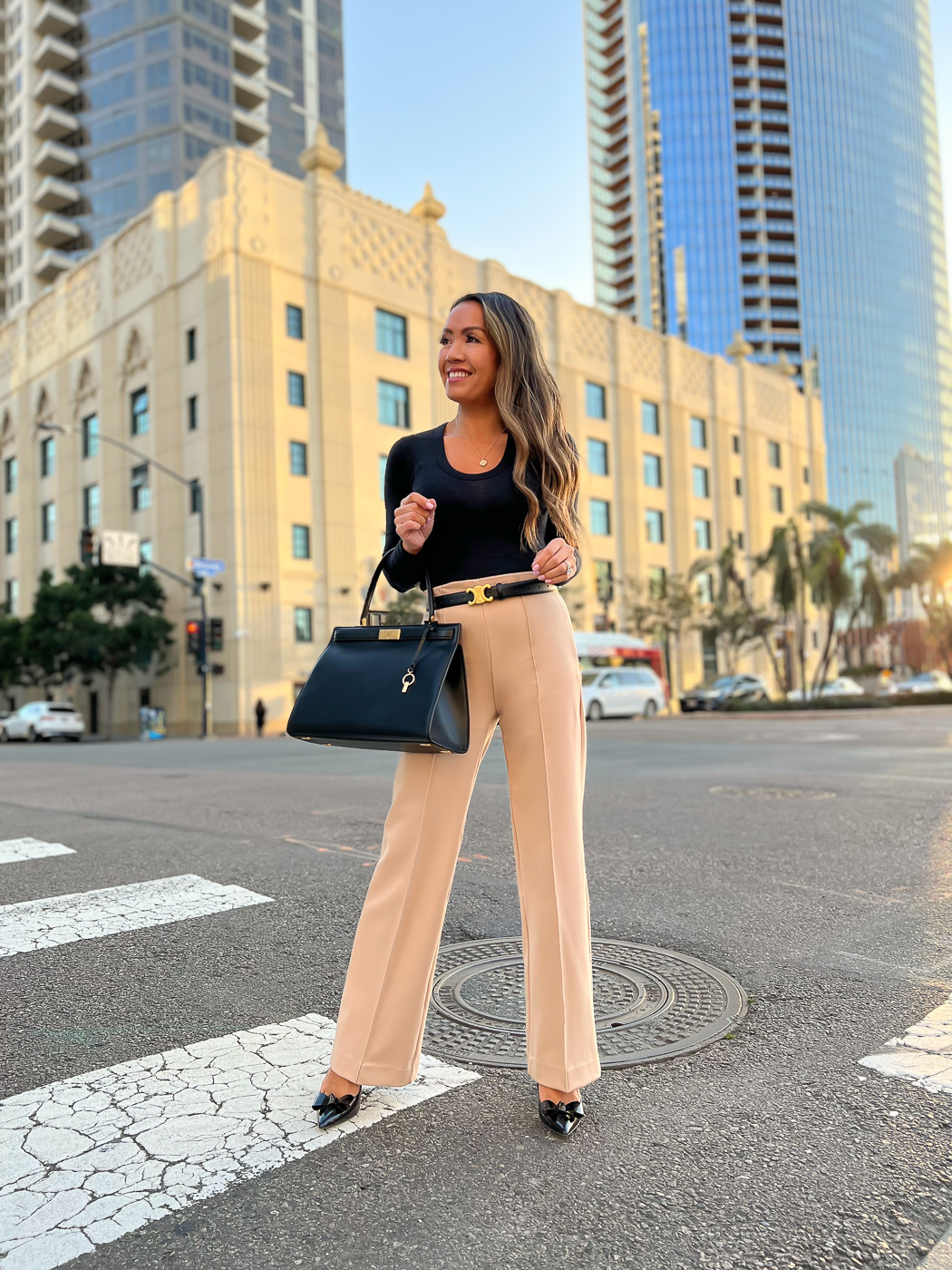 I found a Celine belt dupe and these trousers are great for petites!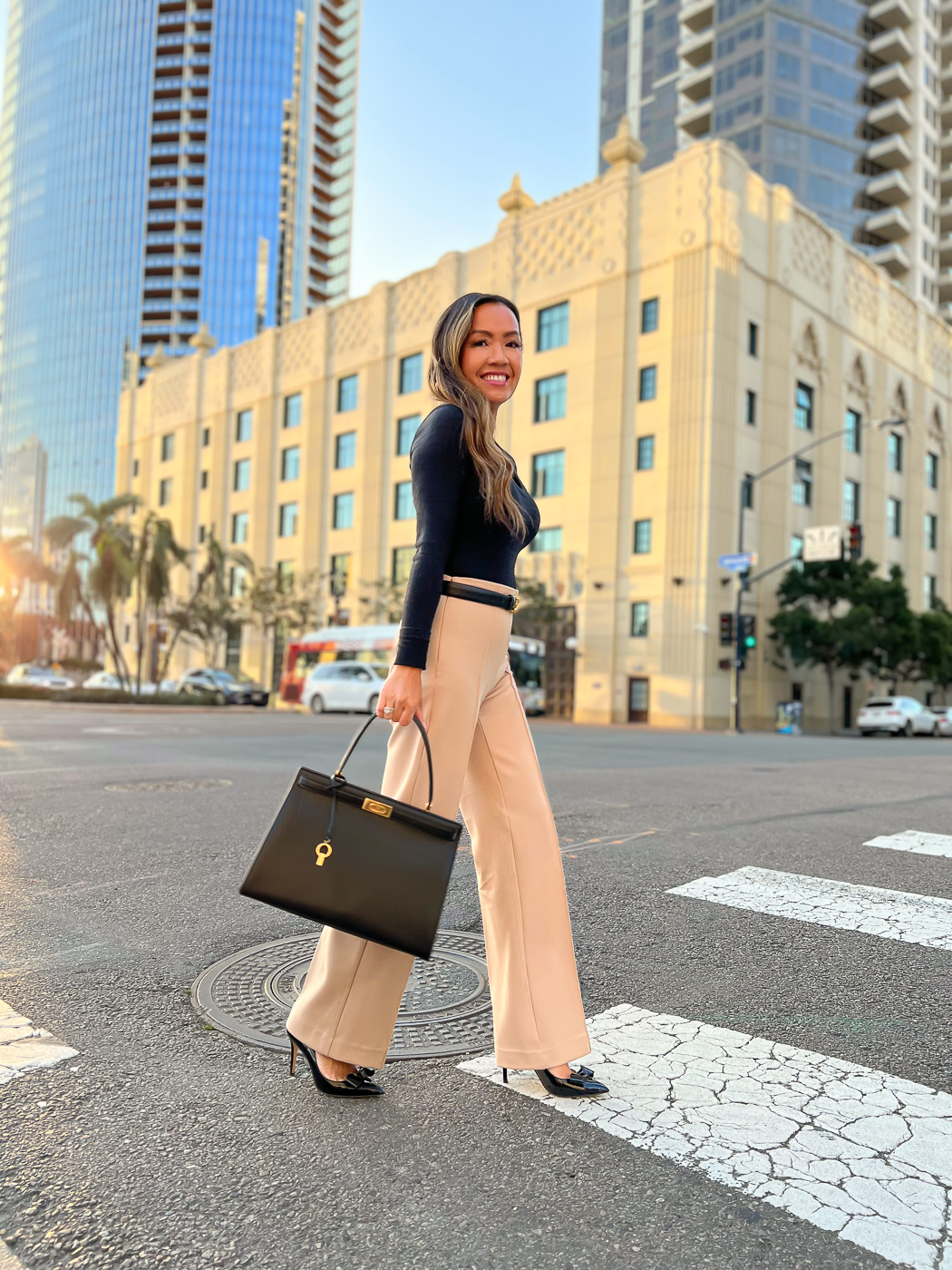 Dress: H&M (size XS) | Shoes: Ann Taylor | Necklace: c/o Kendra Scott | Belt: Celine dupe
 Here is the Celine belt dupe worn with a dress so you can see that there is no extra material hanging (biggest pet peeve).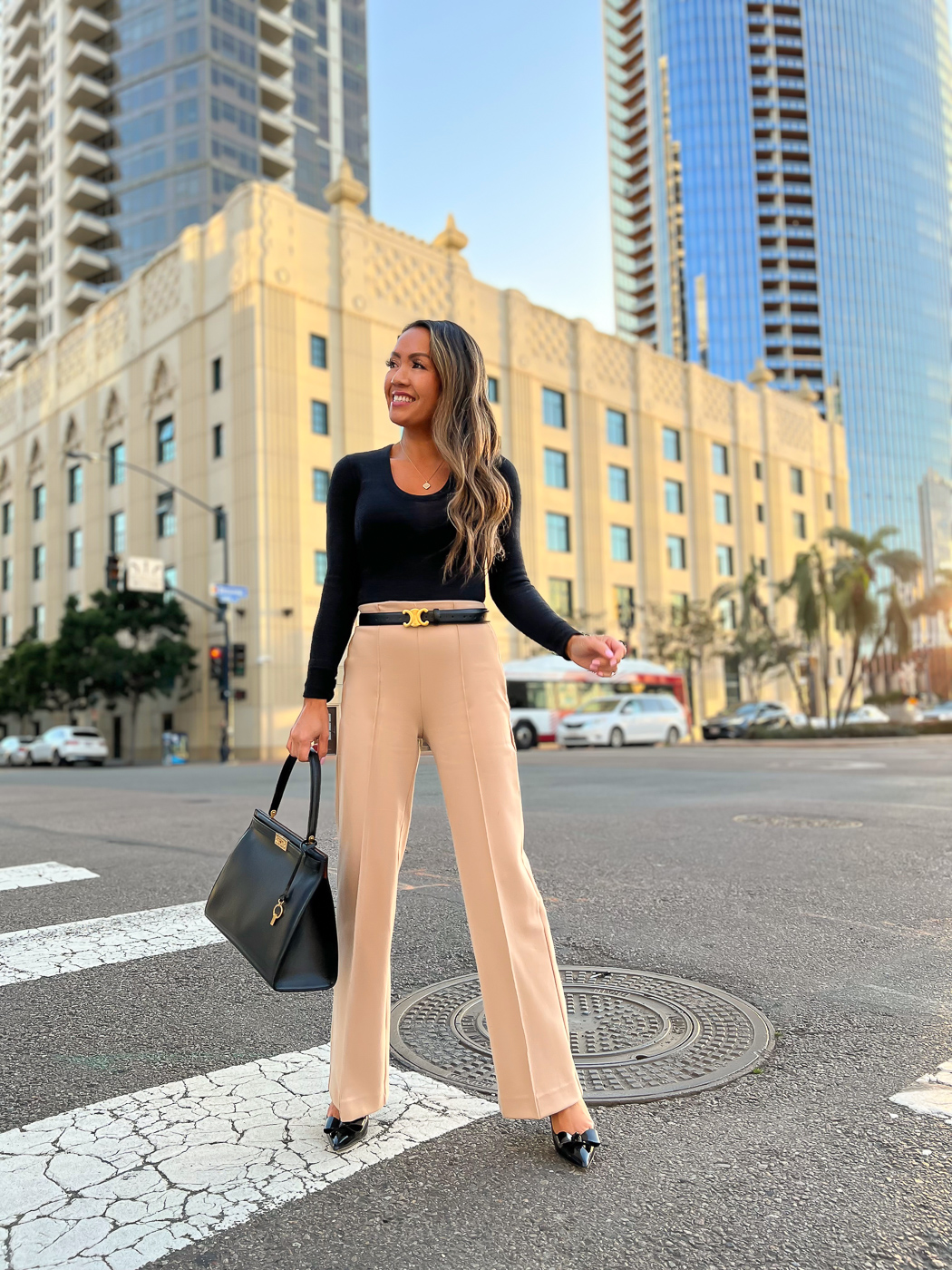 Top: Abercrombie bodysuit (size XXS) | Trousers: Ann Taylor (size 00P, similar HERE or HERE) | Belt: Celine dupe | Shoes: Ann Taylor | Necklace: c/o Kendra Scott | Bag: Tory Burch (smaller size HERE)
I am so obsessed with this Celine belt dupe!  I was not expecting it to be this good but it is SO GOOD.  The original Celine belt is between $520-$670 but this belt dupe is only $32 + free shipping.  The exact retailer I purchased from  sold out within minutes of me posting THIS VIDEO.  A lot of people missed out so I went searching and found the same belt from the same retailer.  The quality is shockingly amazing.  The leather is buttery soft and not stiff like most belts.  Would HIGHLY recommend.  You can buy it HERE.  Woo hoo!
If you want it cheaper, I also found different retailer selling it for $14.99 with $3 shipping HERE but I can't attest to the quality from them.  I'm going to order the white and cognac to see since it's so cheap.  Very curious if it's the same quality.  Will definitely keep you posted on how it compares to mine.
As far as sizing goes, I ordered the size that says it fits waist size 24″- 33″.  The belt is very long and wraps around my waist all the way in the back however there's a belt loop that holds it in place so there's no additional belt material hanging.  Hope this makes sense.  The best part is that you do not have to punch any extra holes!  I hate having to punch extra holes because it never looks perfect and I always feel like the belt is compromised afterwards.  The cheaper retailer that is selling it for only $14.99 is available in several sizes.  Not sure what size to order?  I would recommend measuring one of your own belts and converting the CM to IN.  Hopefully that will give you a better idea as to which size to order.
If you need some trousers, these are very flattering.  I love the color and they're available in petite sizes.  I'm wearing size 00 petite and didn't have to do any alterations.  Pants are very hard for me to shop for because I always feel like they look funny on me for some reason.  That's why it's so rare to see me wearing trousers.  These make your legs look super long too! Would recommend.
Hope you are having a great start to the week! XO