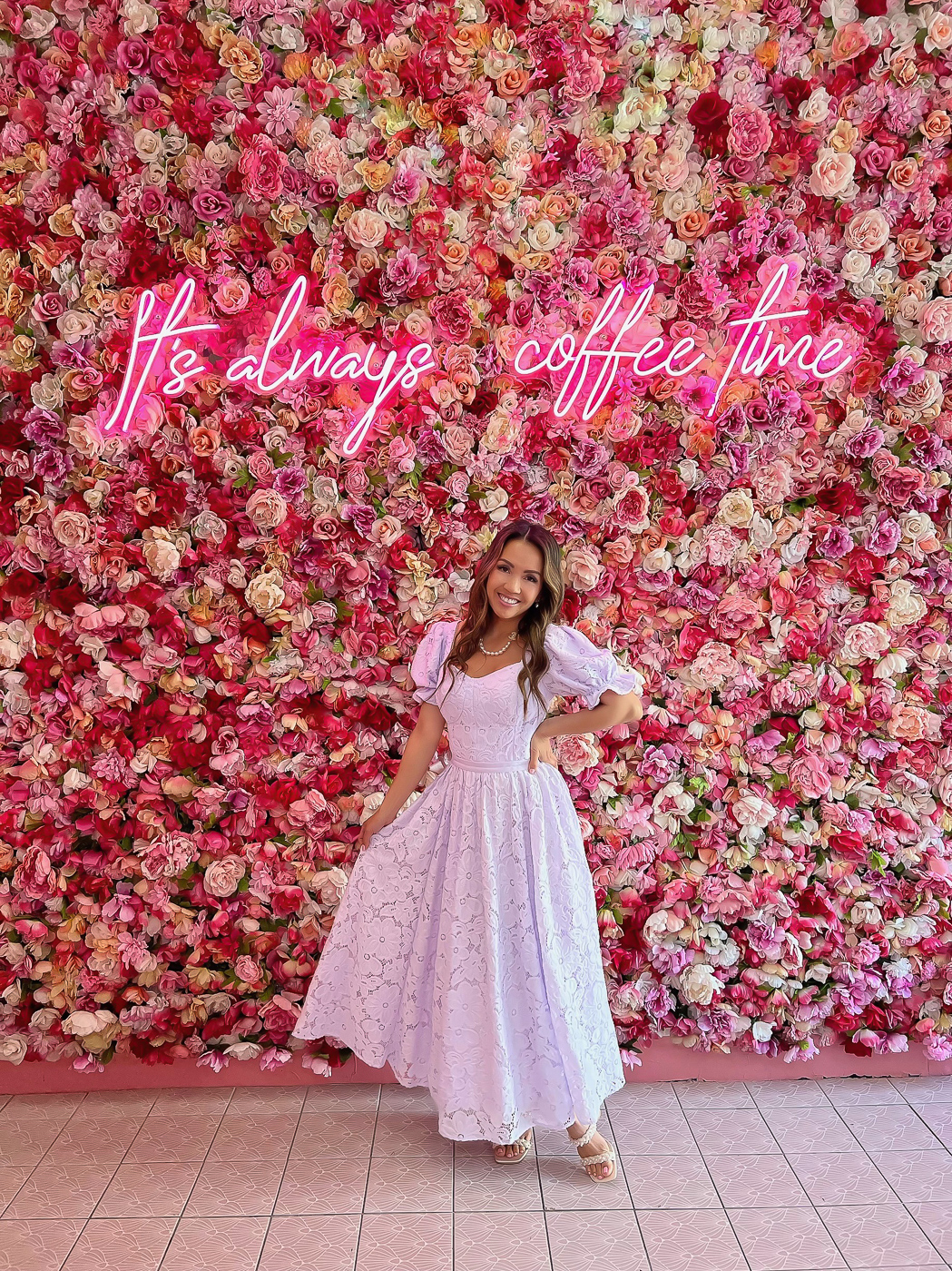 Found the prettiest pink rose cafe and this lace dress is a dream! 
Dres: c/o Ivy City Co (size XXS, matching mini me dresses HERE) | Shoes: Dolce Vita (similar HERE) | Necklace: Chanel (similar HERE)
This gorgeous dress in lilac lace is a stunning dress that will make you feel like a princess. The fabric is delicate, airy and a dream come true for those who love to twirl. With seams that flatter the bust and gorgeous lace overlay, the Ballerina Dress is the perfect mix of charm and class.  One of the most exciting features of this dress is the fun twist on the puff sleeves. They add a touch of whimsy to the dress, making it perfect for a variety of occasions, from a romantic dinner to brunch with the girls.
What makes this dress even more special is that it's available in MINI sizes, meaning that even the littlest fashionista can enjoy the elegance and charm of this beautiful dress. Whether you're attending a wedding, a gala, or just want to feel special, this dress is the perfect choice.  One of my favorite things to do is match with Milan and Meadow!
If you're looking for a dress that will make you feel like a true ballerina, this lace dress is the perfect choice.  Sizing runs true to size and the length is petite friendly!  I'm wearing size XXS and it fits perfectly with no alterations.
Looking for a cozy coffee shop with a unique and charming atmosphere?  The Pink Rose Cafe in La Mesa is a must-visit. Nestled in the heart of Downtown La Mesa, this cafe is the perfect spot to relax, recharge, and enjoy a satisfying cup of coffee.
The Pink Rose Cafe is not your typical coffee shop. Its beautiful and unique pink rose atmosphere is both inviting and delightful, making it a perfect spot for a date, a catch up with friends, or even a solo visit. The decor is carefully curated and has a feminine touch that adds to the cafe's overall charm.
Aside from the lovely ambiance, the Pink Rose Cafe boasts an extensive menu of delectable treats. Whether you're in the mood for a classic coffee or something more indulgent like a mocha, the Pink Rose Cafe has got you covered. Their assortment of coffee, espresso, cold brew, teas, lemonades, and mochas are all hand-selected to ensure that every sip is a memorable one.
If you're looking for a bite to eat, this adorable cafe also has an array of delicious food options. From the popular avocado toast to the sweet and fluffy pancakes and waffles, there's something for everyone. The organic Acai Bowls are also a must-try, especially on a hot day.
The Pink Rose Cafe's pastry selection is something to rave about too. They have a variety of special pastries that are perfect for any sweet tooth. The Strawberry and Nutella Croissants are a fan-favorite, as well as the Chocolate Chip and Cinnamon Roll.
Overall, the Pink Rose Cafe is a gem of a coffee shop that should not be missed. Its charming pink rose atmosphere, excellent coffee, and delectable treats make it a must-visit spot in La Mesa.