As much as I LOVE getting dressed up, I love being in comfy clothes.  I've always been a homebody.  Is there anything better than being in stretchy pants sprawled out on the sofa?  I find myself wearing pajamas and sleepwear more often than I'd like to admit (lol).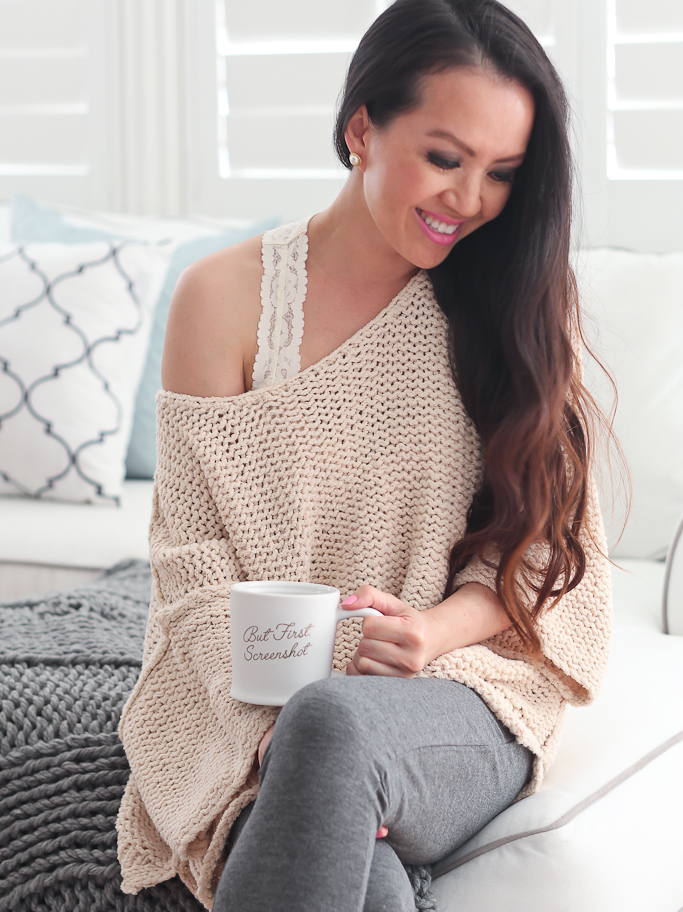 One might say that I may or may not be a lounge pants hoarder?  Is there such a thing?  If there's one thing I love wearing, it's these pants.  I practically live in them at home and even wear them to bed. I love them so much that I have back up pairs (lol).  Now I'm thinking I need the pink color in my life.  In full disclosure, I sometimes wear these outside the house when I'm too lazy to change.  Haha!  Sizing runs small so I'd recommend sizing up if you are in-between sizes.  I was afraid the length was going to be super long but it fits perfectly!  The material is super soft and I love how they're cut like leggings but still have the drawstring waist.  Would highly recommend!
I'm completely obsessed with this lace racerback bralette!  You can wear this lounging or layer it for a sexy but chic vibe.  I love it under an oversized chunky sweater – so cute!  This is totally random but since we are on the topic of bras, did you know most of us are wearing the wrong size?  I did a post many years ago and I'm thinking I need to get measured again since the girls have changed dramatically due to breastfeeding (insert blushing emoji).  In case you weren't aware, Nordstrom has a fully trained team to do bra fittings.  Time to go get measured ladies!
Now let's talk about these adorable pajama shorts.  I love the gray with ivory lace combo so much!  Sizing runs on the smaller side.  I'm wearing size XS and it fits nicely.  The inseam measures 3″ – not too short and not too long.  The best part – they are VERY comfortable to sleep in!
Regardless of how warm it is in the house, I'm ALWAYS freezing.  I wear this cozy cardigan at home and it serves as a sweater, robe and a blanket all rolled into one.  It's a great cardigan to throw over when you're in a rush and need to run some errands.  It serves so many purposes that it's worth every penny and lives up to all the hype and reviews.  I love it so much I have it two colors (graphite and mink).  Would highly recommend.
Cardigan (XS, color graphite) // White tee (XXS) // Lounge shorts (XS) // Similar mug
If you're in need of some new sleepwear or lingerie, here are some of my top picks:

Halo pullover (XS) // Lace bralette (XS) // Lounge pants (size small) // Cable knit blanket (similar HERE) // Pink nail polish // Similar blue accent pillow
Nordstrom has the best selection of lingerie and sleepwear.  I buy most of my bras and pajamas here.  I rarely have time to go in-store so it's nice that I can order everything online and try it on at home.  Free shipping both ways with no minimum – no wonder why my wallet hates me. 🙂

Thank you Nordstrom for sponsoring this post.