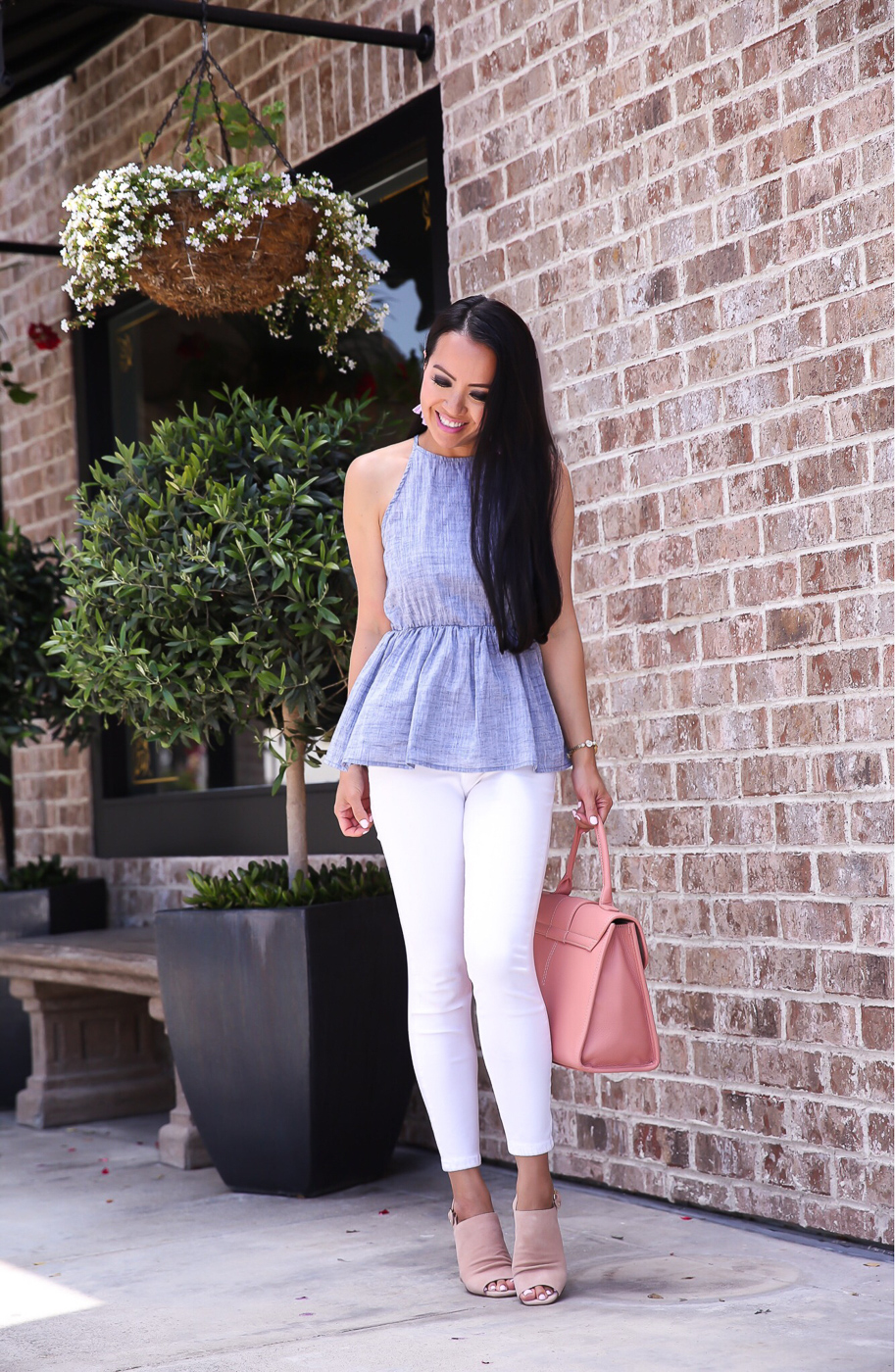 Happy June!  Isn't it crazy to think that Summer is right around the corner?  This year is flying by!  As a reminder, you still have until Sunday to shop the Nordstrom half-yearly sale (see my picks HERE)!  My favorite purchase are these slingback sandals – super soft and comfortable.  Ann Taylor is only having 40% off select right now styles (not that great) however I noticed this seersucker blazer looks just like my favorite skirt from last summer!  Get 50% off must have summer styles at Loft (love this sweater).  J.Crew Factory has tons of cute stuff and I'm swooning over this seersucker apron dress – the back is to die for.
I'm a complete sucker for all peplum tops.  Not only are they flattering but they're so comfortable.  I've had my eye on this chambray peplum cami top for quite some time and decided to finally get it.  I love the cut and fit so much.  I'm shocked it's 100% cotton for only $9!  Sizing runs on the smaller side.  I'm wearing XS and it fits similar to a XXS or XXSP in US retailers.  As far as quality goes, I have no complaints.  I didn't expect much for under $10 however I was pleasantly surprised.  The one downside I could find was that since it is 100% cotton, it does tend to get a little wrinkly which is expected.  Still super cute and can you really complain for only $9? LOL
Top: c/o Chambray peplum top (size XS) | Jeans: Topshop jamie high waisted jeans (size 25×28) | Shoes: Lilla slingback sandal (on sale) | Purse: c/o Talbots (old, similar HERE) | Watch: c/o kate spady new york metro bracelet watch | Earrings: c/o Kendra Scott Kristin earrings
I wanted to quickly talk about these Lilla slingback sandals.  If you missed out on the Steve Madden block heel sandals from a couple years ago, these are a great option.  I'm SHOCKED at how comfortable and soft they are.  Love love love the color (goes with everything) and it's currently on sale. Would highly recommend.  FYI – you still have a few more days to shop the Nordstrom half-yearly sale (see my picks HERE).
Okay so clearly I need an intervention because I have this box pleated bow skirt in three different colors (lol).  I love it THAT much!
The bow, thick box pleats and textured material are all on point.  I can't believe it's only $14.  The best part is that it fits without any alterations!  Sizing runs small so I'd recommend sizing up if you are in between sizes.  I'm wearing XS and it fits perfectly.  Quality is pretty good for the price point.  I like how the material is thicker than what you'd normally expect for $14.  Love and would recommend!
I'm also obsessed with this ruffle sleeve crop top.  Isn't it adorable? Sizing runs extremely small and doesn't have much stretch so I'd recommend sizing up 1-2 sizes.  I'm wearing size XS and it's very fitted.  I must warn you, the length is VERY short hence the name cropped top.  Most US retailer crop tops aren't so cropped length on petite gals however this is truly cropped.  I can only wear this with high waisted skirts because I don't plan on showing my midriff (lol).  Quality is good and only $9!
Skirt: c/o Bow front box pleated textured skirt (size XS, 4 colors) | Top: c/o Ruffle sleeve crop top (size XS) | Pumps: kate spade new york lottie pumps (similar HERE) | Purse: Prada | Watch: c/o kate spady new york metro bracelet watch | Cuff: c/o kate spade pearl cuff (similar HERE)
Here are all the colors I have…I know I'm insane. #sorrynotsorry
Left outfit w/black skirt: (see more photos HERE)
Top: c/o Polka dot blouse (size small) | Skirt: c/o Bow pleated skirt (size XS) | Cardigan: c/o ModCloth cropped cardigan (size XXS) | Shoes: Ann Taylor bow pumps (similar HERE or HERE) | Purse: c/o kate spade (similar HERE)
Right outfit w/pinkish skirt: (see more photos HERE)
Skirt: Bow pleated skirt (size XS) | Top: Scalloped cami (size 00) | Bag: Pom pom straw mini bag | Sandals: Nude patent luminate sandals | Earrings: c/o Kendra Scott Kristen Earrings | Necklace: c/o Kendra Scott Ethan Sliver Pendant Necklace | Ring: c/o Kendra Scott Megan Cocktail Ring