I've been wearing a lot of darker colors lately so I thought it would be nice to switch it up with some winter whites and pastels.  I think my brain is getting into Spring mode now that the holidays are over.  Winter is great up until Christmas and then once the everything is done, I'm kind of over it (lol).  This outfit has a combination of two of my favorite things – blush and lace.  I can't seem to get enough of this color palette too – it's so soft and feminine.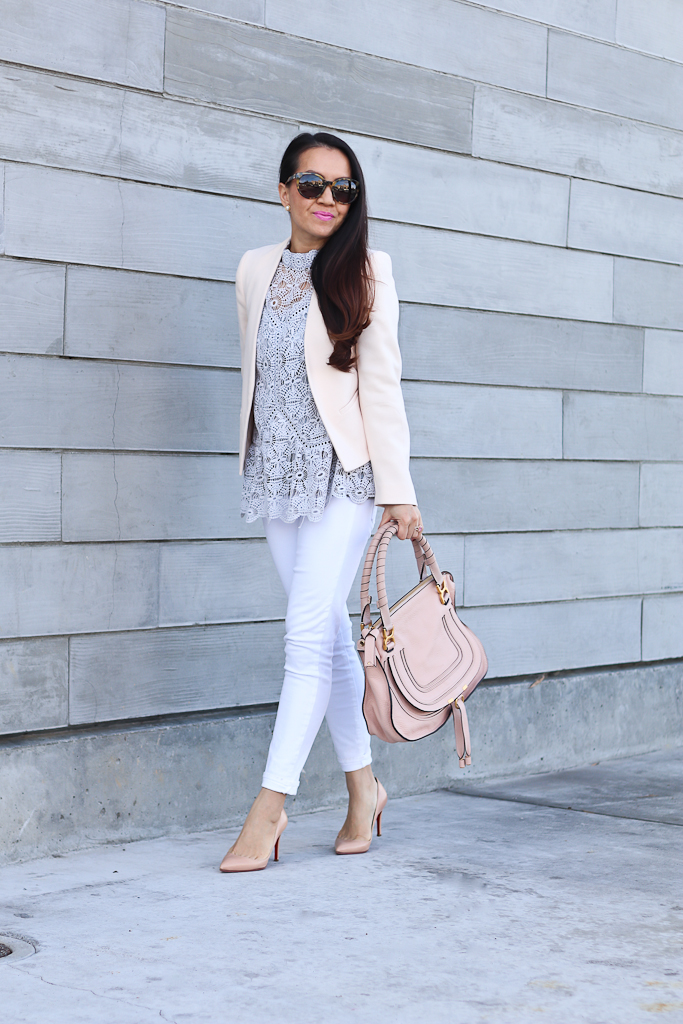 How gorgeous is this gray crochet top?  I'm in love with the neckline, 3/4″ sleeves and ruffled scrolled hem.  It's even more gorgeous in person.  I was a bit skeptical with the sizing since the smallest size is S/M but as you can see, the fit isn't bad!  Sizing runs true to size however it's a bit wide in the sleeves and overall width for someone my size.  I think by adding a blazer helps pull everything together and also makes it work appropriate.  My blush collarless blazer is old from Topshop at Nordstrom (my all time favorite) however I was able to find THIS ONE (available in petites) and THIS ONE – both are a pretty close dupe to mine.
You can wear it alone and it still looks great.  I love how the sleeves are 3/4″ – no worrying about it being too long.  This top has a split back with button closure and luckily it's super easy to put on and take off. No fussing with zippers or twisting your arm like a pretzel to zip it up.  It's partially lined however I opted to add a gray tank underneath to hide my bra straps showing through in the shoulder area.  The quality is really nice and the price is even better!  I love it and would recommend. 🙂
This would be a great business casual outfit and yes you can wear white after Labor Day. 🙂 I wear white jeans all year around and think it's great to wear even in the winter months.  It's nice to brighten up your outfits with some lighter hues for cloudy and dreary days.  If you've never ordered from Chicwish before, here are some items I own and would recommend to make shopping a little bit easier.  I know sometimes it can be overwhelming culling through pages online so hopefully this will save you lots of time!

You can shop all their pretty new arrivals HERE.
 THIS OUTFIT and this recent post are my two favorite Chicwish outfits.  You can check out some more outfit ideas HERE, HERE, HERE, HERE.
c/o Gray crochet top (s/m) // Chloe satchel // Paige denim (cheaper option HERE) // Topshop blazer (similar HERE or HERE) // Louboutin pumps (cheaper option HERE) // YSL lipstick in fetish pink // kate spade earrings (similar HERE) // c/o kate spade watch // Nail polish // c/o Elton cuff // Tory Burch sunglasses (similar HERE)
Valentine's Day is around the corner and this could be a great option to wear to dinner.  It's a perfect mix between casual and girly yet still dressy enough for a night out.  Hope you had a great weekend and thanks for stopping by!  XO

Thank you Chicwish for sponsoring this post.