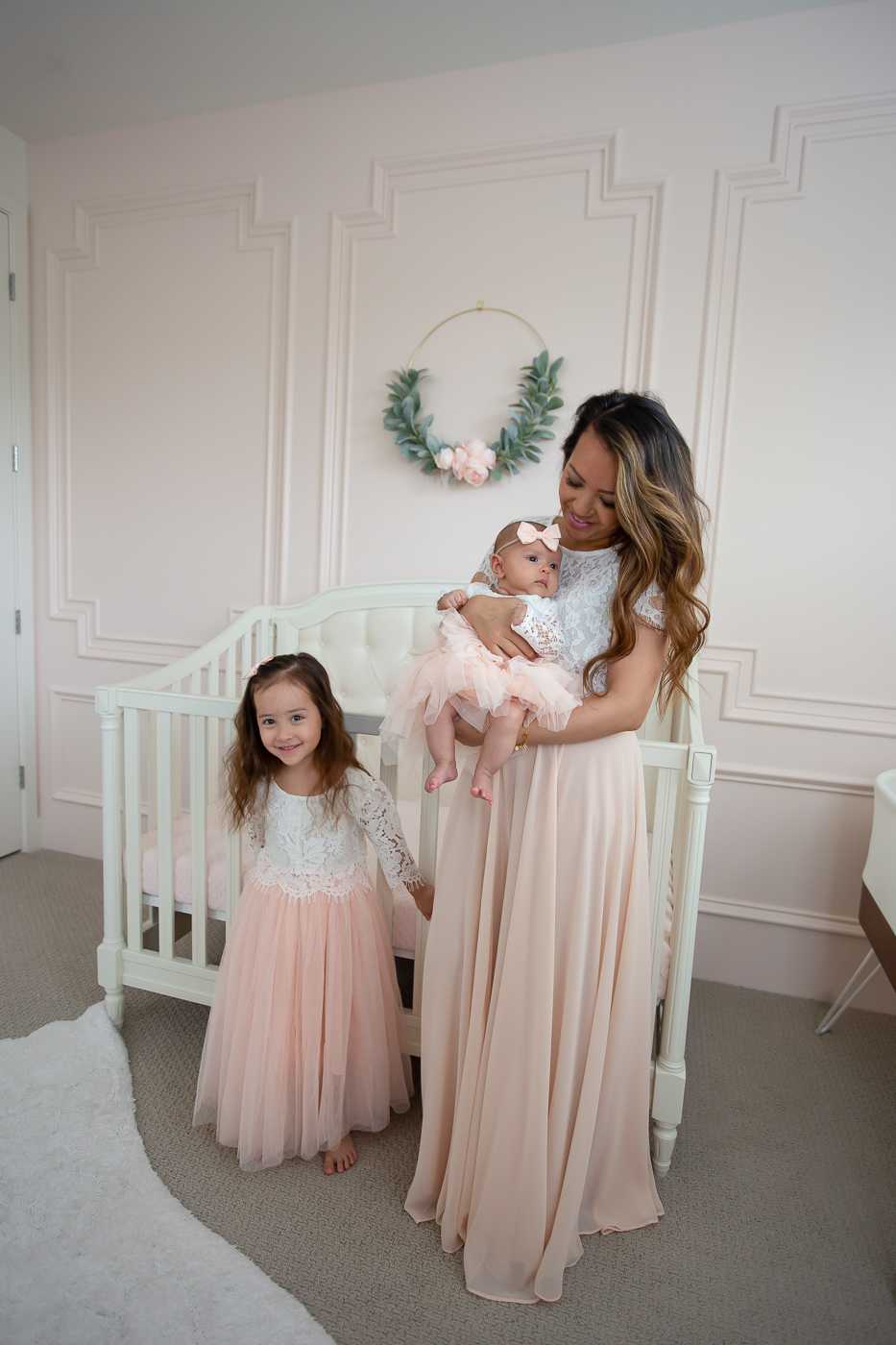 As I write this, my heart is so heavy.  Not with sadness but with pure joy.  It's still surreal to me.  Another baby.  A sibling for Milan.  Mr. Right.  Everything.  I don't even know where to begin!
Mr. Right and I both wanted a baby girl.  You can only imagine how excited we were when we found out the sex.  To be able to give Milan a sister and have another baby is everything I've ever dreamed of.
For Milan's nursery, I didn't have the opportunity to do it the way I really wanted to.  So this time around, I was going to get my dream nursery.  I was able to re-use some of Milan's nursery items which helped offset some of the costs.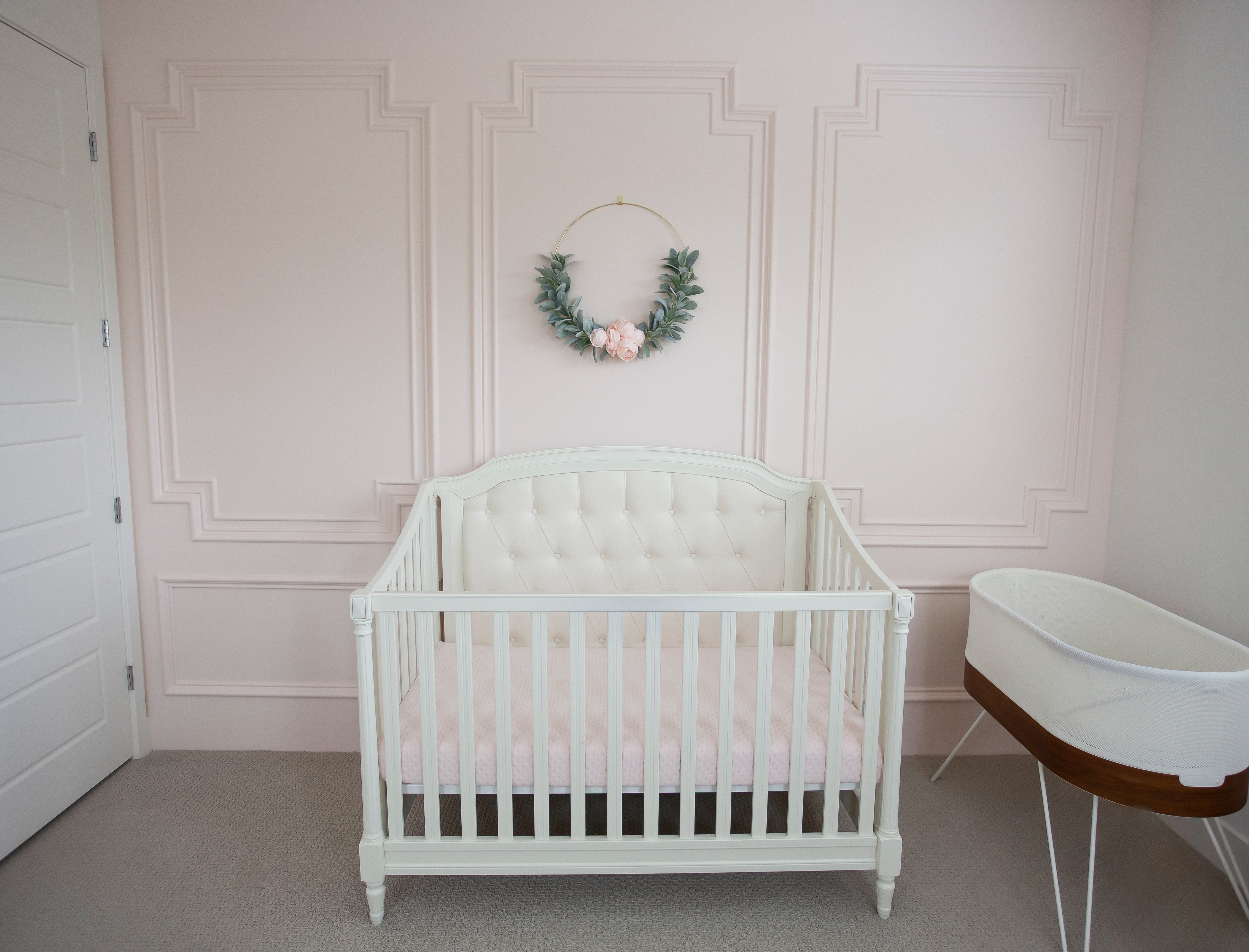 I knew right away the vision for Meadow Ivy's nursery.  The colors (pink, white and gold) are similar to Milan's nursery but slightly different.  The look I was going for was simple but elegant.  I also wanted to choose pieces that she could use for many years to come.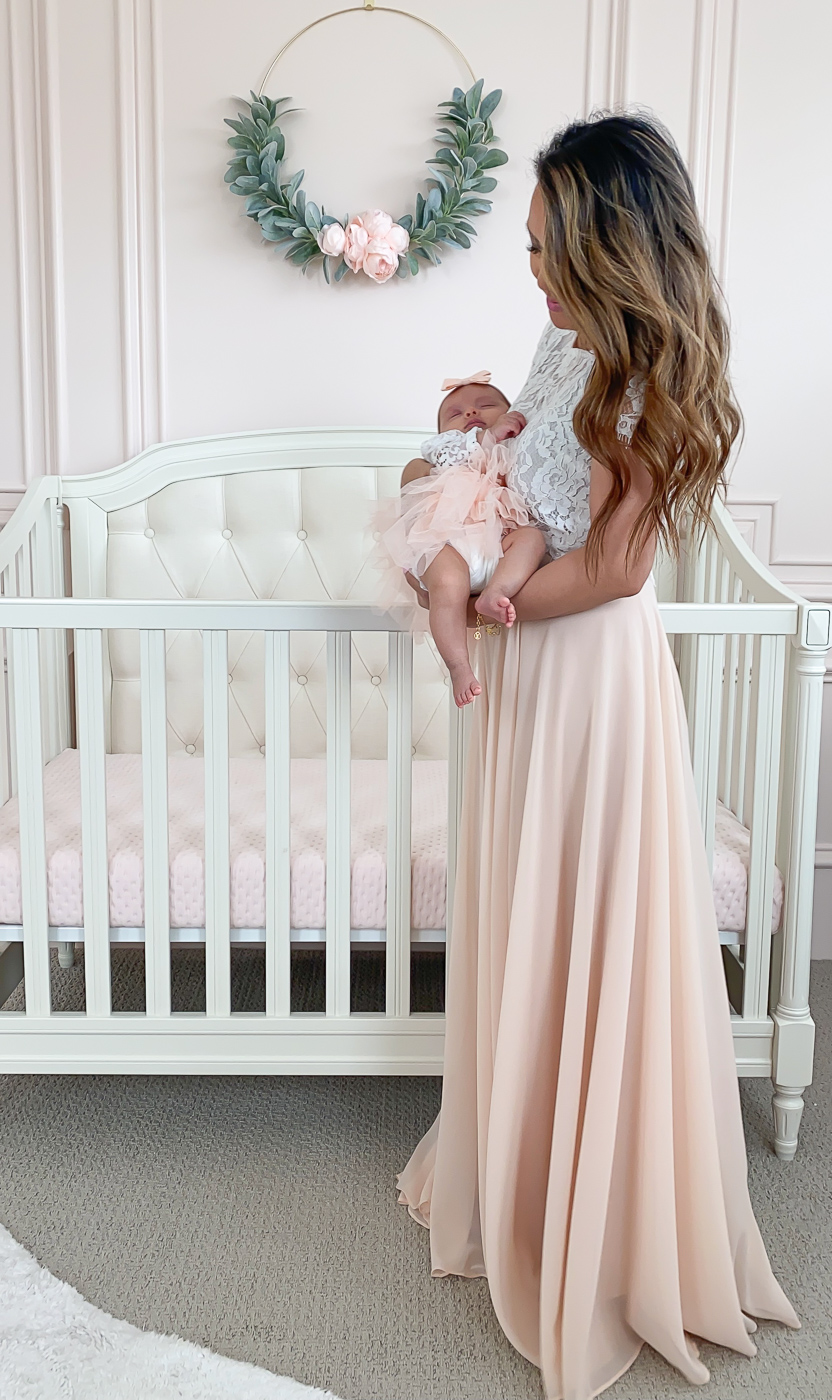 This pink accent wall is my dream wall.  I've always wanted something custom like this.  You can read more about it HERE.  The color used is Sherwin Williams Intimate White (SW 6322).  It's the perfect shade of pale pink.  It turned out even better than I had hoped.  I love it so much that I put the same wall in my home office.
I'm literally dying over our Mommy and Me matching outfits.  I couldn't believe I was able to find Meadow a dress that matched so perfectly with Milan and I.  I was shocked it fit her so well.  I love these photos so much that I get teary eyed every time I look at them.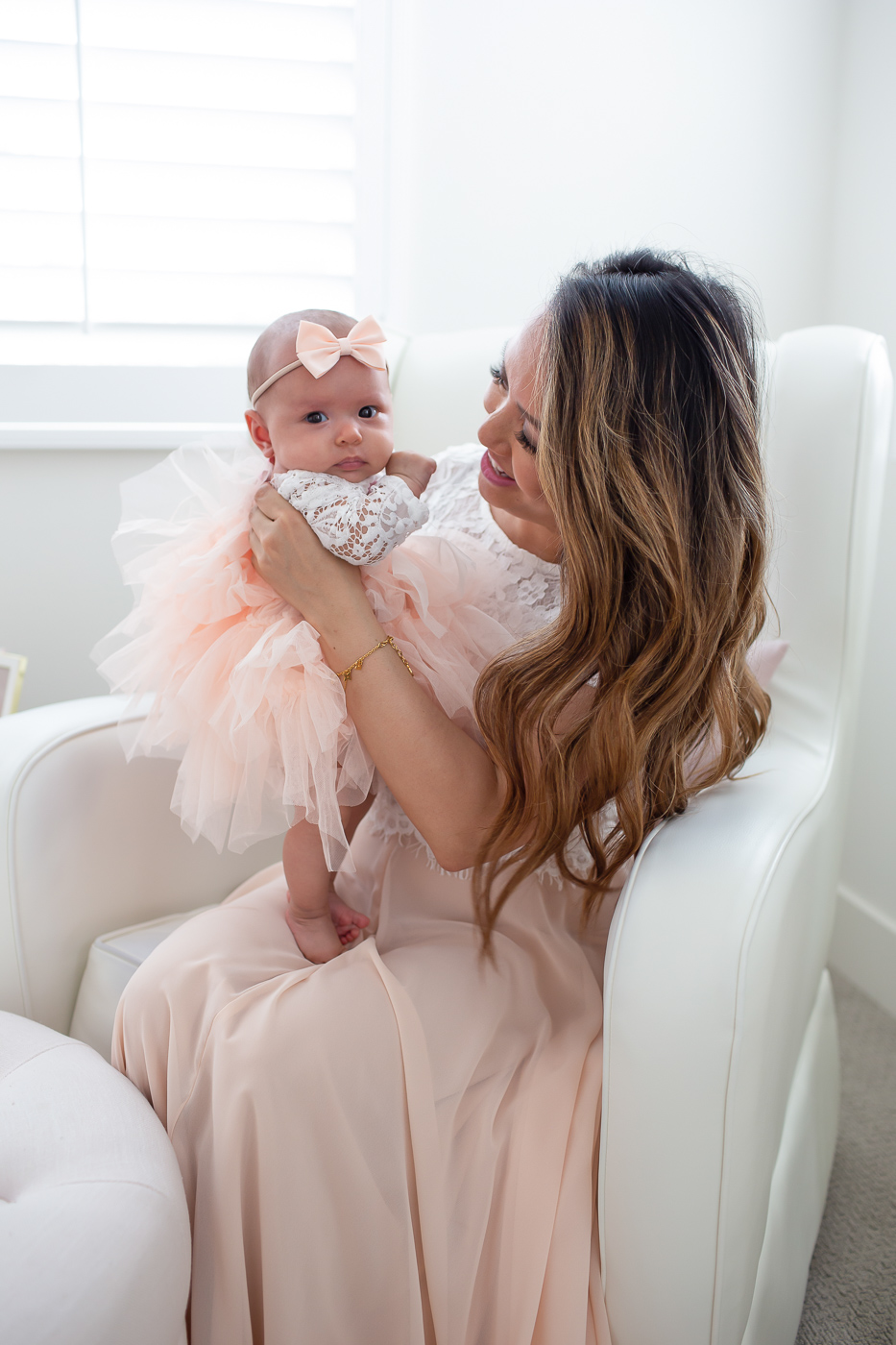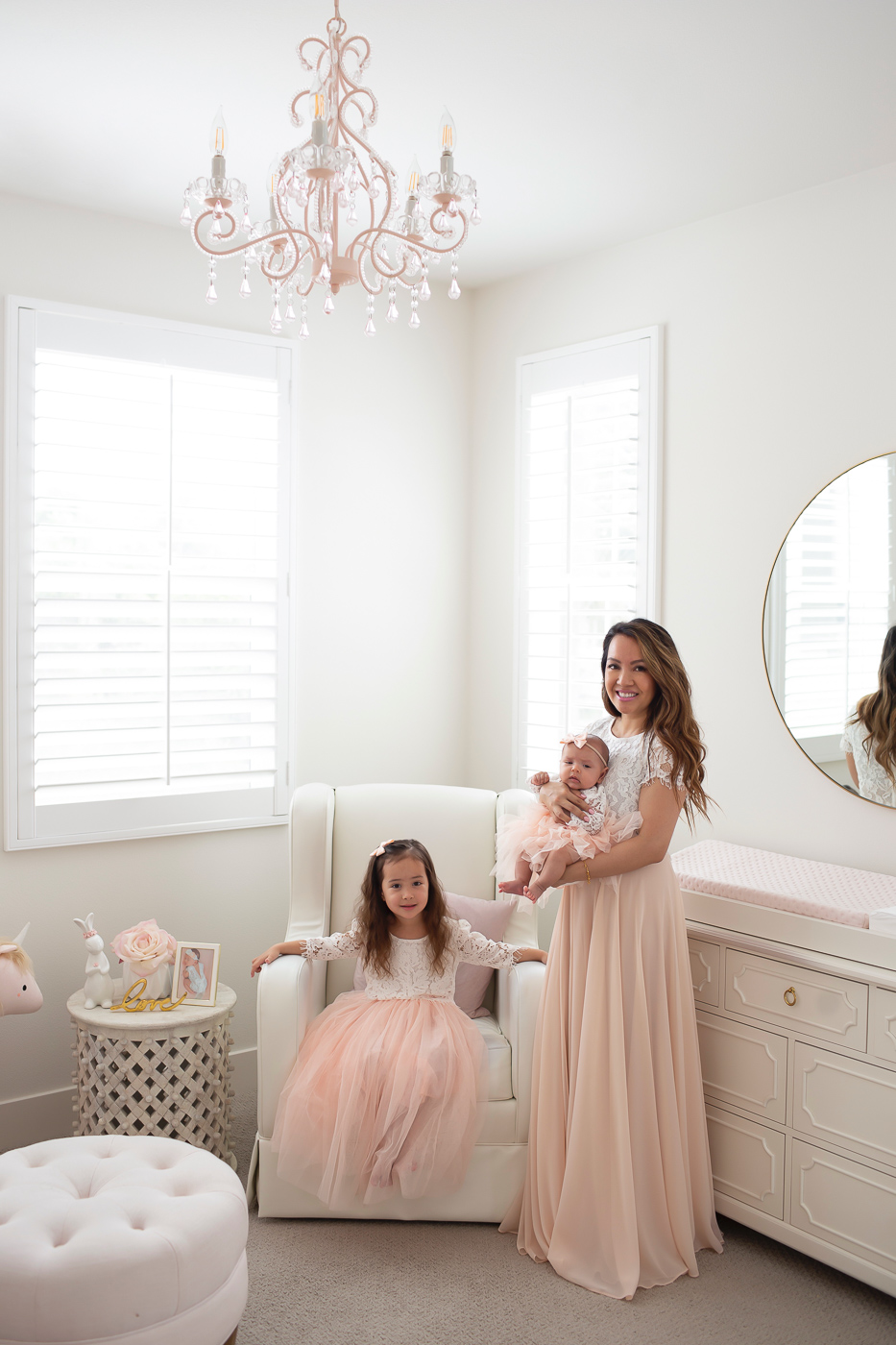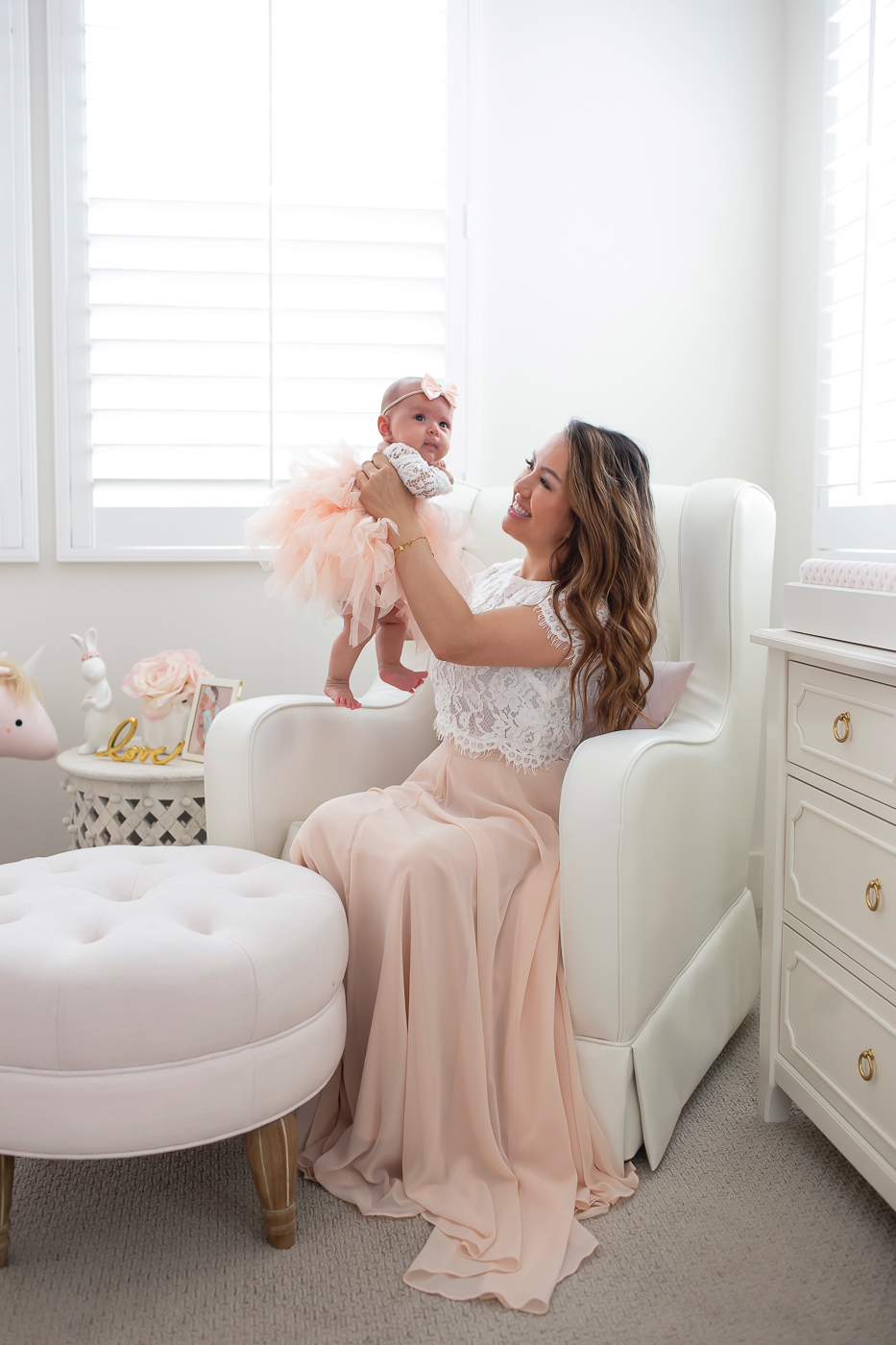 Baby Monitor: c/o Lollipop Baby Monitor (more colors HERE) | Dress: Amazon (size 0-6 months) | Headband: c/o Elle Bowtique
I just got this Lollipop baby monitor and it's the cutest monitor I've ever seen!  You can wrap the camera on your crib or anywhere you want.  It tracks sleep, detects crying and it's wireless.
Shelves: Pottery Barn Kids | Pram: Home Goods (similar HERE) | Luggy Basket: Anthropologie | Llama dolls: c/o Cuddle and Kind (similar HERE) | Bow Bench: c/o Birds Eye Blue
Dresser: Pottery Barn Kids Ava Regency Dresser | Changing pad: Nook Sleep | Mirror: CB2 round brass mirror (36″) | Tissue Dispenser: c/o Ubbi World | Wipes dispenser: c/o Ubbi World | Trash Can: c/o Ubbi World | Lamp: Miffy Ottaman: c/o Pottery Barn Kids (similar HERE)
Crib: Pottery Barn Kids Blythe Crib | Mattress: Nook Sleep | Bassinet: c/o SNOO (review coming soon) | Chandelier: Pottery Barn Kids | Wreath: Foxtail and Mint (gift from WhatJessWore)
My Outfit: Top: c/o Morning Lavender (size XS) | Skirt: c/o Morning Lavender (size XSP, regular sizes HERE)
Milan's Outfit: Top: c/o Morning Lavender (size 4T) | Skirt: c/o Morning Lavender (size 4T) | Bow clip: c/o Elle Bowtique
Meadow's Outfit: Dress: Amazon (size 0-6 months) | Headband: c/o Elle Bowtique
Crib: Pottery Barn Kids Blythe Crib | Mattress: Nook Sleep | Bassinet: c/o SNOO (review coming soon) | Chair: c/o Olio Studio (similar HERE) | Side Table: similar HERE |Dresser: Pottery Barn Kids Ava Regency Dresser | Mirror: CB2 round brass mirror (36″) | Tissue Dispenser: c/o Ubbi World | Wipes dispenser: c/o Ubbi World | Trash Can: c/o Ubbi World | Ottaman: c/o Pottery Barn Kids (similar HERE) | Chandelier: Pottery Barn Kids | Wreath: Foxtail and Mint | Lamp: Miffy | Changing pad: Nook Sleep | Unicorn: c/o Crate & Kids (previously The Land of Nod) | Angel rug: c/o Lorena Canals
I feel so blessed and as cheesy as it sounds, I'm complete.  I have so much to be thankful for and I will forever be grateful for Mr. Right.  We created this beautiful baby and Milan has a best friend for life.  I love my little family so much.  Thank you for coming along this crazy journey with me.  Love you guys!  XO