I've had tons of requests about petite utility jackets lately so I went scouring the internet for some options.  Guess where my favorite utility jacket is from?  Forever 21!  I know, crazy right?  See it on me here and here.  It was one of those F21 gems that I found a few years ago and haven't seen anything like it since.  It fit perfectly without any alterations and I still love it.
Forever 21 utility jacket (similar HERE) // Striped shirt (similar HERE) // Old Navy jeans (similar HERE) // BP runway cognac boots (similar HERE) // Coach crossbody (similar HERE) // Leopard scarf (similar HERE) // Chanel sunglasses (similar HERE)
After a ton of research, I finally found a couple simple and classic utility jackets that I would recommend!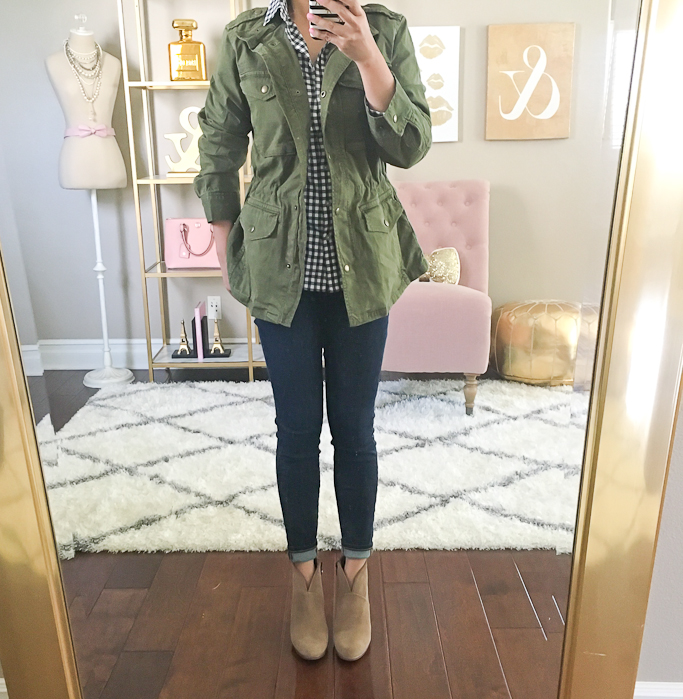 Gap utility jacket (xsp) // Ann Taylor jeans // Vince Camuto Franell booties // Banana Republic gingham shirt (similar HERE)
Measurements: armpit to armpit 19″, sleeves 22″, total length 25″
Likes/Dislikes: I love the simple, classic style of this jacket.  It's made out of 98% cotton, 2% spandex and the twill weave is soft to the touch.  The quality is amazing and the jacket feels very durable.  Gap clothes seem to last forever!
Sizing: Sizing runs on the larger side so I would recommend sizing down.  I'm wearing XSP and the only reason why it looks half decent is because of the drawcord waist.  This feature definitely helps give the jacket some shape otherwise it wouldn't be as flattering.  The sleeves are long and slightly wide.  If you don't want to pay of alterations, I was able to cuff it up once and it was doable.  The color is an army green NOT olive green and yes there is a difference.
Price: $98 (I got 40% off)
Verdict: Would recommend!
Hinge drapey military jacket (xxs) // Paige Verdugo jeans // Louboutin nude pumps // Forever 21 lace top (similar HERE)
Measurements: armpit to armpit 16″, sleeves 23.5″, total length 26″
Likes/Dislikes: This is the jacket I posted HERE and it arrived so quickly!  I couldn't' believe this was still instock when I placed my order.  This is a great example of how stock images are so deceiving.  It didn't look that cute online but in person, it's adorable.
Sizing: I was so curious to see the sizing since the reviews said it ran small.  It most definitely runs small.  I'm wearing XXS and the armpit area is a bit tight on me.  I'd recommend sizing up if you plan on layering.  I was pleased to see the sleeves are slim however they are long on me.
Sorry for the terrible photos, the lighting was really bad when I took these.  The color of the jacket is a true olive green.  The material is 70% rayon and 30% polyester and very soft.  It's much thinner than the Gap utility jacket but slightly thicker than my Caslon draped jacket (see HERE).
Price: sale price $49.50, after sale $98
Verdict: Would recommend!
I can't even choose which one I like better because there are things about each that I love.  You honestly cannot go wrong with either.  On another note, there's only 4 days left to shop the Nordstrom Anniversary Sale!  I know this is super annoying and the sale has been overly promoted but it's my job to keep you updated.  Click HERE to shop the sale! Prices will jump back up on August 8th so now is the time to stock up on Fall items at a substantial discount.  If you aren't sure what to buy, you'll want to read this post HERE or see what I bought HERE.  Need to know how something fits?  Then check out my reviews HERE, HERE and HERE.
Striped ruffle shirt // Block sandals (see them on me HERE) // Vince Camuto shorts (similar HERE) // Vince Camuto Abril bag